Derriford Hospital bosses seek £13m support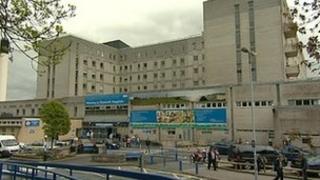 Bosses at Devon's main hospital have asked the region's health chiefs for £13m in cash support.
Managers at Derriford Hospital said they have a gap of £37m as a result of "falling income and rising costs".
Joe Teape, the director of finance for the Plymouth Hospitals NHS Trust, said they could not make the savings "without impacting on patient care".
Unison said staff were worried about the financial problems facing the hospital.
Mr Teape said: "We have plans to save £24m and we are in discussion with the Trust Development Authority around £13m cash support.
"This means that for 2013-14 we are forecasting a deficit. Our priority is to continue to provide safe and effective care to our patients.
"This is why we have taken a decision to seek cash support and forecast a deficit in the short term."
A Unison spokesperson said staff were concerned about their jobs and "frightened about the future".
Mr Teape said: "We know that despite our challenges, we have many top-class services delivered by truly committed staff.
"We will develop our financial recovery plan, not by imposing plans from the top but by working bottom-up, listening to our staff and taking the right actions."