Devon dairy brings in fresh supplies after food poisoning concerns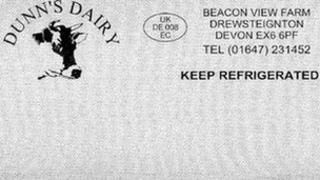 A Devon dairy ordered to stop production because of food poisoning concerns said it had brought in fresh supplies from another dairy.
Customers of Dunn's Dairy at Drewsteignton were advised to dispose of any milk or cream products after a fault was detected in the pasteurisation process.
It supplies milk to West Devon, Exeter, Mid Devon, Torbay and Teignbridge.
It is now supplying products from a dairy in Exbourne that was unaffected.
Beacon View Farm in Drewsteignton said it had "a breakdown in the system" and had withdrawn all unused products.
The contamination was discovered during a joint Public Health England and West Devon Borough Council investigation following an inspection of the dairy, which processes about 8,000 litres of milk a week.
On Friday, the environmental health team asked the dairy to stop supplying milk and cream products and recall any products supplied.
The dairy was also issued with a notice to stop production.