Torquay lime tree 'poisoning' investigated by police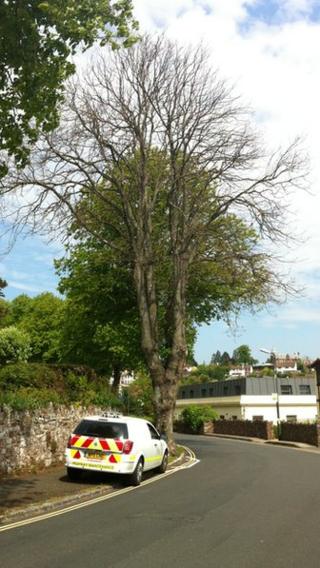 The suspected poisoning of an historic lime tree in a Devon seaside town is being investigated by police.
The tree, which is about 80 years old, forms part of avenue of trees in Underhill Road, Torquay.
Holes were found drilled into the bottom of the trunk after the tree failed to grow leaves in the spring.
Torbay Council, which said it took the protection of its trees seriously, said the tree would need to be felled at a cost of about £10,000.
Councillor Ray Hill said: "We are extremely concerned that something like this has happened.
"Leaf samples are being sent for laboratory analysis to see if any chemicals have been inserted in the drill holes, leading to the tree's death.
"This is not just environmental vandalism, it is a crime, and we have reported it to the police."
Patrick Carney, the council's street scene manager, said: "It is very very unusual for a tree of this age to just die.
"This is a prominent street and the [avenue of trees] is part of the Victorian design of the street.
"These trees can actually be seen from the seafront so they are an important part of the skyline.
"These actions have led us to have to spend money which could have been spent better elsewhere improving parts of the bay."
About 150 letters have been sent to local residents asking them if they have seen anything suspicious.
Last year a "Treeconomics" survey found Torbay's trees were worth about £280m in terms of their environmental worth and what it would cost to replace them.