Kennford pink cottage owners ordered to repaint home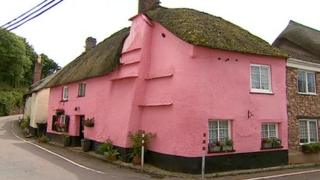 A couple who painted their 17th Century cottage a vivid shade of pink have been told they must repaint it a less vibrant colour.
Teignbridge District Council denied retrospective planning permission for the listed building in Kennford, Devon, saying any repainting needed consent.
Owner Ann Kennedy argued it had "always been this shade of pink" and their work merely restored the previous hue.
The council gave the owners three years to repaint it in an agreed colour.
'Storm in a teacup'
Ms Kennedy argued Lantern Cottage, a thatched cob building, had historically been pink and she was only returning it to its former state.
She also said she sent the council proof of the colour the house was when she bought it.
The authority's planning committee turned down the application by 17 votes to three.
The council said consent was needed before any alterations were made to a listed building that were likely to affect its character or appearance.
Councillor Mary Colclough claimed the new colour was "not in keeping with the village".
Her argument was supported by councillor Joan Lambert, who said the cottage "was garish and doesn't fit in to the local area".
She said: "It is the wrong type of pink, as it is particularly vibrant."
However, councillor Mike Walters argued the situation was "a storm in a teacup".
He said: "The cottage has brightened the area up."
Committee chairman councillor Humphrey Clemens said: "We have a responsibility to support our conservation officers and the applicant should have to apply for an acceptable colour."
Ms Kennedy said she was "a bit upset" at the decision.
She said: "They've given us three years to do it, so that's a bit of a compromise on their part.
"Everybody sees colour differently. What one person sees as garish, another can see as acceptable."