Plymtree fly invasion: Fines reduced for egg farmers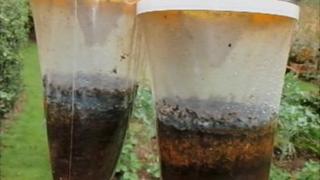 Two farmers who caused an invasion of flies, which were found in fridges, dishwashers and beds in east Devon, have had their fines reduced.
Herbert Persey, 64, and James Persey, 33, from Fordmore Farm, Plymtree, were each fined £9,500 in September.
They appealed and their fines have been reduced to £5,000 after there were "no further infestations" since 2011, Exeter Crown Court heard.
The flies bred in waste produced in sheds which contained 9,000 chickens.
In September, Exeter Magistrates' Court heard the waste produced in the chicken sheds should have been kept dry or taken away.
The court heard that people living nearby found their carpets covered and flies in their food and drink.
The flies flew into people's mouths and crawled up their noses during the invasion in October 2011.
The father and son were found guilty of two counts of failing to comply with an East Devon Council abatement notice.
Both appealed against their sentences and the fines have been reduced by recorder Paul Derbyshire, who was sitting with two magistrates.
He also ordered them to pay the £4,842 costs of the original case and £4,400 costs of the appeal.
'Six million flies'
Mr Derbyshire said the flies caused "great distress to the residents" living nearby.
He said: "In reducing the level of fines we bear in mind both defendants are of good character and work was done before and after the breach of the order to try to solve the fly problem.
"Happily, I am able to say that in 2012 and 2013 as a result of these works there have been no further fly infestations although much of the work was only brought about after the decision to prosecute."
Mr Nicholas Berry, prosecuting, said experts assessed there could have been six million flies in and around the farm at the time.
Mr Nicolas Gerasimidis, defending, said the farmers had not ignored warnings but had been unable to act until the end of the hen's laying cycle, two months after the inspection.
He said they had spent money improving drainage to ensure the manure pits were kept dry and now arranged for the regular removal of the waste.