Teignmouth Costa branch approved by planners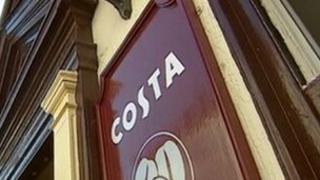 Coffee chain Costa has been granted permission to open a store in a Devon town, despite a 1,500-signature petition objecting to the proposal.
Teignbridge District Council's planning committee approved the plans for the store in Teignmouth.
Critics said 26 coffee outlets already in the town was enough and that those shops and associated jobs would be at risk.
The Costa store is expected to open in about five weeks.
'No trade impact'
Councillors approved the application after they were told by planning officers the user of the unit was not a planning issue.
Anti-Costa campaigner Tom Free, who works at another coffee shop in the town and started the petition, said concerns about the new Costa included holidaymakers deciding to forsake local stores.
He said: "People are going to go in there and use that facility because that is what visitors know.
"It could have a massive impact, possibly even [resulting in] closures."
Costa franchisee James Witty, who is opening the new branch, already runs four Costas in Devon and Dorset.
He said he did not expect the Teignmouth outlet to affect local trade, citing his store in Sidmouth as an example.
He said: "In Sidmouth, it has got busier and busier since we moved in. We've been there two years and had no impact on local trade.
"And two more independent cafes have also opened up in that time."
Costa has bowed to local pressure in Devon before.
The chain withdrew plans to open in Totnes in October after 5,750 signatures were collected against it.
The firm, which had planning permission, said it decided not to open in Totnes because it "recognised the strength of feeling" against national brands in the town, which prides itself on its alternative image.
About 150 people have applied for jobs at the planned Teignmouth branch, Mr Witty said.