Torquay dog mess protest at loss of bins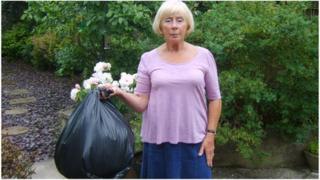 A woman was so angry about the loss of dog mess bins that she dumped a bag of the waste in council offices.
Susie Colley bagged up dog mess left near her home in Torquay, Devon and took it to the town hall.
Her move came after Conservative-controlled Torbay Council removed 160 of its 900 bins to save money.
It said most were near regular litter bins and stickers were now being put on those saying they could be used for disposing dog waste.
Mrs Colley, who has three highland terriers, said: "They are allowing us to use the multi-purpose bins, but in Stantaway Hill there is none nearby.
"People have been leaving their dog poo next to where the old bin was and there's a home for the blind nearby."
She said she secured a number of bags of dog mess with three bin liners and went to the town hall.
She said: "I passed the mayor on the way in but he said he was too busy, so I asked the receptionist if I could leave it for him.
"I've been told it was not a healthy thing to do, but is it healthy to have dog poo all around Torquay?
"It is not a good message for the tourists."
She suggested that local firms such as vets could sponsor bins.
Torbay Council, which is cutting £10m from its budget to £127m, said the "majority" of the removed bins were for dog waste and were near a litter bin or where there was more than one bin in the area.
It was monitoring the effect of the reduction and would "keep them under review to see if any amendments are required".
The council added: "It is important that dog owners continue to act responsibly by bagging their dog waste and binning it in the network of about 740 bin facilities that are still provided across the Bay."
Mayor Gordon Oliver was unavailable for immediate comment.