Devon snake bites on dogs 'on the rise', says vet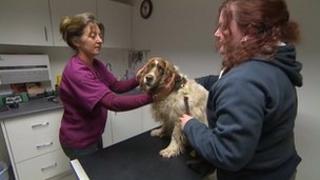 Dog owners in Devon are being told to beware of snakes biting their pets.
One vet said she had treated 15 animals so far this year which had been bitten by adders, compared to two such bites in 2012.
Victoria Goss, of the Dart Vale Veterinary Group, said the snake's venom could kill if dogs were not treated after a bite.
Some of the animals were attacked in the Dartmoor area. Adders are the only venomous snakes found in Britain.
Face size 'doubled'
The snakes use their venom to immobilise prey such as lizards, amphibians, nestlings and small mammals.
It poses little danger to a healthy adult human, although the bite is very painful and requires urgent medical attention; but it is more dangerous to smaller creatures.
They are not aggressive animals and only bite anything that is not prey as a last means of defence if caught or trodden on.
Thirteen-year-old English springer spaniel Sam was bitten last week while in a field on its owner's farm, near Ashburton on the edge of Dartmoor.
Owner Sarah Watts said: "His face doubled in size. I thought 'that was just not right', it was concerning."
Sam is on his way to making a full recovery, but Ms Goss said treatment for a bitten dog was intensive.
She said: "Usually they end up needing to have intravenous fluids.
"More often than not they also need to stay indoors for that treatment, and they often get a very big, painful swelling and a high temperature."