Royal Devon and Exeter Hospital investigates two errors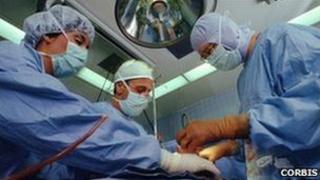 Two so-called "never events" occurred in a Devon hospital last month, it has emerged.
In one of the events, at the Royal Devon and Exeter Hospital, a patient received a transfusion of the wrong blood type, sources confirmed.
The other involved a tube being fed into a patient's heart unnecessarily.
Hospital managers confirmed they were investigating how the two incidents happened and said providing safe care was their "top priority".
Failures 'too high'
The incidents are categorised by the Department of Health as never events because they are so serious they should never happen.
Using the wrong blood type in a transfusion can harm or even kill a patient.
Possible reactions include an acute haemolytic transfusion reaction (AHTR), when the immune system reacts to the donated blood and begins attacking the blood cells.
The second error was giving a patient an unnecessary angiogram.
Angiograms are an invasive test where dye is injected directly into the heart's arteries.
Chief nurse Em Wilkinson-Brice said: "Providing safe care is our top priority. We are currently investigating two incidents and are in touch with both families."
The Care Quality Commission (CQC) confirmed it was aware of the investigations and it would take the results into account at its next inspection.
A spokesman said: "Never events are by definition always a matter of concern and it is important that there is an investigation and any lessons are learned so there is not a recurrence."
According to BBC research, there were six never events at the Royal Devon and Exeter NHS Trust between 2009 and 2012.
That compared with six at the Royal Cornwall Hospitals Trust and 14 at Plymouth Hospitals Trust over the same period.
NHS England admitted the figure of more than 750 never events in English hospitals over the same period was too high and said it had introduced new measures to ensure patient safety.