HMS Sutherland sailors' warship race raises £6,000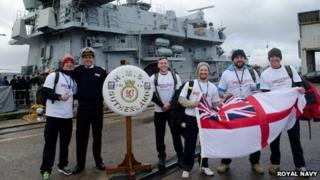 Five Devonport-based sailors raised more than £6,000 for charity by racing their ship from Scotland back to Plymouth on foot.
The men collected £6,300 on the 800-mile (1,287km) route and successfully beat HMS Sutherland back to port.
The money for the Royal Navy and Royal Marines Charity (RNRMC) was presented to its president, Admiral Sir Jonathon Band.
The challenge was completed without money, credit cards or mobile phones.
With a rucksack and a collecting can, the "Highland Escape Challenge" team members - Dean Latham, Russell Simpson, Brad Morton, Steve Weaver and David Grey - were given just an hour's notice to prepare for the trip from Invergordon in the Cromarty Firth to Plymouth in the spring.
Using their "wits, charm and leadership skills", the sailors impressed enough businesses and individuals to acquire transport, meals and accommodation free of charge.
The team left Invergordon on Monday 29 April and arrived at Devonport before the ship sailed home to base on Friday 3 May.
En route to Plymouth, the team stopped at Stirling Castle, Old Trafford, Twickenham, the Houses of Parliament, First Sea Lord's office, RAF Benson, Taunton Racecourse and most of the ship's affiliations.
The cheque was presented by HMS Sutherland's commanding officer Cdr Al Wilson during the frigate's family day.
The challenge won the Type 23 frigate's crew the 2013 RNRMC Challenge Cup which was presented to Cdr Wilson by the admiral.
"I am immensely proud of the energy and effort that my ship's company put in to raising such a huge amount for an incredibly worthy cause," he said.