Cowley Bridge anti-flooding funding bid submitted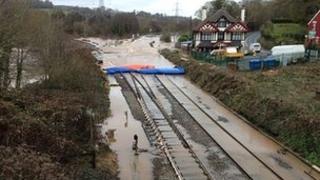 A bid for £30m has been submitted to the government to pay for work to make Devon's rail lines more resilient against flooding and landslips, track owner Network Rail has said.
In November and December, the main line at Cowley Bridge near Exeter was submerged, closing it for 11 days.
Many trains were delayed and cancelled as a result.
Network Rail said work at Cowley Bridge could start before the end of the year if its bid was approved.
More anti-flooding work would also be carried out between Teignmouth and Dawlish, it added.