Lottie Bryon-Edmond to be UK Transplant Week lorry poster girl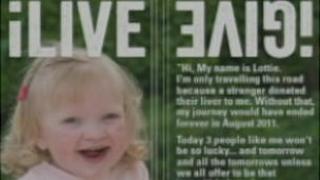 The face of a girl thought to be the youngest person to have survived a liver transplant is appearing on a fleet of lorries to highlight National Transplant Week.
The image of Lottie Bryon-Edmond, from Torquay, will be on Gregory's Distribution trucks across the UK.
She underwent the transplant in August 2011 when she was five weeks old after a nationwide hunt for a suitable organ.
She celebrated her second birthday at the weekend.
Last year Lottie was chosen by Torbay Hospital as their iLIVEiGIVE campaign poster girl.
She needed an urgent transplant after she was diagnosed with neonatal haemochromatosis - a rare condition in which iron accumulates in the body, causing severe damage to the liver and other organs.
Doctors warned she could have died at any time before the procedure and she was top of the UK's urgent transplant list for 14 days.
According to the NHS, one donor can save or transform up to nine lives and help others through tissue donation.
National Transplant Week runs until next Sunday.