Charles Passmore family call for asbestos compensation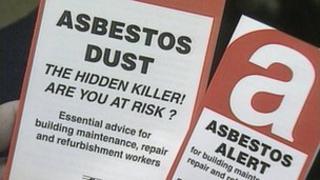 The family of a Devon man who died from an asbestos-related disease is calling for compensation.
Charles Passmore, 82, worked as a stoker at South West Gas sites in Barnstaple and Swindon in the 1950s and 1960s and died at the end of last year.
His family said they believed working there could have meant he came into contact with asbestos.
National Grid, which now owns South West Gas, said that if contacted, they would "carry out a full investigation".
Kevin Passmore, Mr Passmore's son, said: "It was a shock when the coroner came back with asbestosis.
"You still grieve for your father. It's only recently I picked up his ashes. There's shock, anger and upset."
Former employees
Mr Passmore died from cancer, caused by the asbestos dust, on 19 December, Swindon coroners' office confirmed.
He worked for South West Gas in Barbican Road, Barnstaple as a stoker between 1957-1959 and carried out the same role at the Gypsy Lane site in Swindon between 1960-1970.
His family is now appealing to former employees of South West Gas in Barnstaple and Gypsy Lane, Swindon to come forward and confirm the presence of asbestos at the sites.
Brigitte Chandler, of Swindon firm, Charles Lucas & Marshall which is acting for the family, said: "The symptoms of asbestos-related illnesses can take between 15 to 60 years to emerge.
"We are keen to speak to anyone who can confirm there was asbestos at the South West Gas sites during these dates."
In a statement National Grid, the successor company of South West Gas, said: "We haven't received any correspondence from Mr Passmore's family however, if they contact us we will carry out a full investigation into their claim."