Plymouth's Derriford Hospital 'failed to protect patients'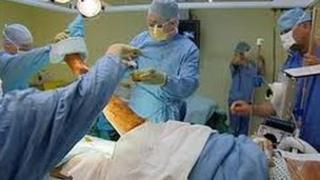 A Plymouth hospital must make urgent improvements to protect patients undergoing surgery, the health watchdog has warned.
The Care Quality Commission (CQC) inspected Plymouth's Derriford Hospital after eight serious but preventable events in a year.
Its report also cited an example of a patient who was not consulted over a "do not resuscitate" decision.
But Plymouth Hospitals NHS Trust has insisted its patients are safe.
'No excuses'
The CQC report also found Derriford failed to meet five out of nine nationally-required standards, including involving patients in decisions about their care, staffing levels and record-keeping.
The unannounced inspection in April was brought forward because of the spate of "never events", defined by the Department of Health as serious, but largely preventable events that should never happen.
Five such incidents related to surgery or treatment to the wrong part of the body. They occurred between November and March.
Two years ago when the CQC raised similar safety concerns in Derriford operating theatres, the hospital trust said it had put safety measures in place to reduce the risk of deaths and complications.
'Unrealistic timetables'
However, inspectors found the way that operations were scheduled put staff under too much pressure, thereby creating a risk that mistakes could happen.
Clinical staff told inspectors timetables were unrealistic and did not allow for unexpected delays.
The report said staff shortages meant that specialist theatre staff were often not available.
The hospital also failed to adequately involve patients in discussions about their care and treatment, with forms used to inform staff of patients' end-of-life choices not fully, or sometimes accurately, completed.
Inspectors said a decision not to resuscitate had been taken for one patient "who had capacity" without discussion or agreement.
Ann James, the hospital trust's chief executive, said improvements had been made, but she acknowledged the unannounced inspection had come at one of the busiest times of year when the hospital was under "great pressure".
"I think what we need to reflect on is that the pace of improvement is not as quick as we and our clinical staff would like," Ms James said.
Adrian Hughes, regional director of the CQC, said while he accepted Derriford was under pressure at the time of the inspection, there were "no excuses".
"Anyone who goes into Derriford for an operation is entitled to know that the hospital has done all it can to minimise the risk of harm," he said.