Exeter church in 'gay couple worship ban'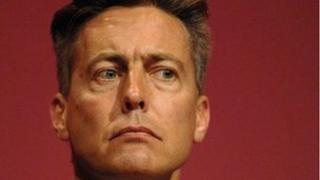 A gay couple were refused permission to worship in a church in Exeter, an MP has told the House of Commons.
Labour MP Ben Bradshaw said a "local conservative evangelical church" had turned away the unnamed couple, who do not want to be identified.
The Dean of Exeter Cathedral, said he could not understand why a gay couple were refused permission to worship in a local church.
The Evangelical Alliance said members' responses varied on gay relationships.
Mr Bradshaw, one of the first openly gay MPs, mentioned the incident during a debate in the Commons after he asked "what guidance the Church of England planned to issue to parishes and church schools on pastoral care for same sex couples and their children".
He told the House: "I recently came across a case of a Christian couple in a same-sex relationship and with children in the local church primary school to whom it was made clear by the local conservative evangelical church that they would not be welcome to worship in it."
He added: "Intolerance and bigotry have no place whatever in the Church of England."
Exeter Cathedral's Dean, the Very Reverend Jonathan Draper, said he "did not understand why any church would want to deny someone the sacrament on the basis of their sexuality".
'Important sign'
He said: "At the cathedral we are completely happy to have people of whatever sexual orientation, colour or nationality.
"And that means not just to come and worship but to play a part in what we do because we think it's an important sign of what we do as a Church."
Tom Cook, of the Exeter Independent Evangelical Church, which did not refuse the couple, said: "We believe what the Bible says and it says that lots of different things are wrong, including homosexual relationships.
He added: "We have never faced that problem and I could not say for certain whether we would refuse someone to worship in the church."
An Evangelical Alliance spokesman said members believed in a "set of standards" which included "that sex should take place between a married couple of different sexes".
He said: "How churches respond will vary massively.
"It is one thing to have a theological position but how churches act with people in their community can be very different.
"I find it quite hard to see how a church can justify saying a gay couple is not welcome to worship.
"But if people wanted to be a member of the church we would ask people to respect those standards."