£33,500 for uninhabitable cliff house in Torquay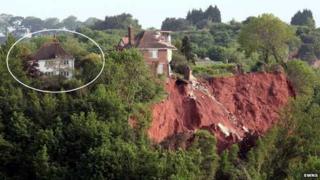 A cliff-top house in Torquay, which has been deemed officially uninhabitable, has sold at an auction for £33,500.
Tor Cottage had a starting price of £25,000 - even though it would normally sell for around £400,000.
The property which was described as being in immaculate condition, sits on land which is prone to landslips.
Nearby Ridgemont House featured in national newspapers and on television because part of it has collapsed because of a landslip.
'Degree of risk'
Tor Cottage is yards from the edge of Oddicombe Cliffs in Torquay.
Torquay Council's prohibition order means it will not allow occupation until structural work is carried out to make it safe.
Chris Hodgkinson, of estate agents House Buyer Bureau, said: "We are very pleased with how the auction went.
"We have yet to find out who has bought Tor Cottage, but the property does have potential for the right investor.
"There is clearly a degree of risk involved, but Tor Cottage and the land still may have potential as an investment opportunity."
The home's previous owner, who declined to comment, had been renting it out.