Cats shot at in 'similar' suspected air rifle attacks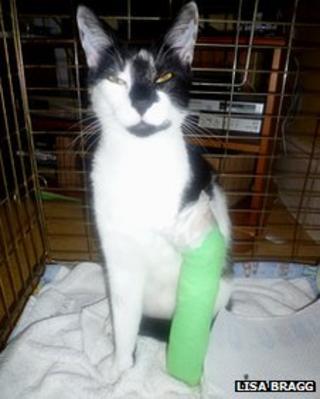 Two cats have been shot in "similar" suspected air rifle attacks in Plymouth, police said.
Both animals were shot in the leg in the Stoke area of the city.
Officers are investigating a "potential link" between the attacks, a Devon and Cornwall Police spokeswoman confirmed.
The animals, who were injured on 24 June and overnight on 7-8 July, are recovering. One owner, Lisa Bragg, said her cat Charlie had a "perfectly round hole in his leg".
Ms Bragg said: "He's often quiet but he was meowing and must have been in a lot of pain."
A vet removed the pellet from Charlie, who will have to be kept in a cage for at least three weeks while he recovers, she said.
"I'm afraid to allow my other cat out now... I'm so anxious," she added.
PC Shelley Charlton said: "There's no reason to shoot an animal like this, it's wrong and immoral.
"If it is as a deterrent there are other less harmful methods.
"They should consider that these animals are people's pets and it is very distressing for the owners."