Prince Charles Brixham visit: 'Optimism' over fishing's future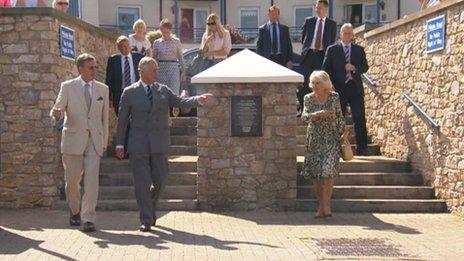 The Duke of Cornwall is "a bit more optimistic" about the fishing industry, he said during the second of a three-day visit to the South West.
He met members of the fishing community at Brixham and spoke to fishermen about protecting livelihoods and fish stocks.
The Duchess also visited West of England School and College in Exeter - of which she is patron - which works with people with visual impairments.
She unveiled a plaque on a new accommodation unit.
Hundreds of people turned out in the sunshine to see the Royal couple arrive in Brixham.
While there, the Duke and Duchess were shown the trawler the Pilgrim, which is part of the six-strong Brixham Heritage Fleet.
The vessel, built in 1895, was recently restored.
They also met staff from the RNLI and the Maritime and Coastguard Agency (MCA).
Speaking at a Fishing for the Future workshop, set up by the Prince's International Sustainability Unit (ISU) and Seafish, the Duke said he thought fishing had a bright future.
The Duke praised fishermen for their efforts to preserve fish stocks and protect the marine environment.
He said: "Three years ago ... the situation did seem rather gloomy. But today I am a bit more optimistic.
He said he was impressed with equipment that significantly reduced by-catch, leading to "fewer undersized fish being caught and [that] helps protect the seabed".
He added: "It also cuts fuel use and lengthens the life of the fishing gear."
During her college visit, the Duchess was presented with a card made by students for her 66th birthday, which is on Wednesday.
The Duchess said she was "delighted" at the card, which was decorated with Braille and symbols.
Her visit to the centre - which provides specialist learning, care and therapy to blind and partially-sighted four to 25-year-olds - marked the opening of Cornwall House, an accommodation unit for five young people.
Unveiling a plaque to mark its opening, she thanked staff for their work.
She said: "It has been five years since my last visit.
"I have come back and everything has changed - everything has got better."
Related Internet Links
The BBC is not responsible for the content of external sites.