Andrew Cane 'panicked' after strangling mother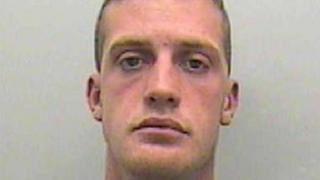 A man who strangled his mother with his belt told police he "panicked" and let go after she started coughing.
Exeter Crown Court heard that Andrew Cane, 31, told police he was drunk and high on drugs when he attacked 63-year-old Linda Sheard.
The court was told that Mr Cane and his mother had an argument over his use of cocaine at the house they shared in Exmouth, Devon.
Mr Cane, of Exmouth, denies murdering her, but admits manslaughter.
Bought cocaine
The court heard that his mother had found a wrap of cocaine in her son's bedroom at the house.
Mr Cane told officers she pulled him back and slapped him as he tried to get away, knocking her to the floor of her bedroom.
He said he could not remember how the belt got around her neck.
"There was a lot of shouting and I was trying to calm the situation. I can't remember where my knees were. We went to the ground and she was coughing. I let go because she was coughing.
"I would never have left her if I knew what was going to happen. Never in my life would I have left her."
He told police he returned the next day.
He said: "I came into the house and said 'Mum'. I went upstairs and she was where I left her and that was when I moved her and turned her over.
"I knew she was dead. I did not have to check."
In a later interview he said he took his mother's purse and used her cash point card to buy cocaine.
The case continues.