Cowboy builder Jonathon Mills jailed for £100,000 con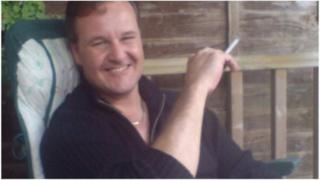 A cowboy builder who cheated an elderly widow of nearly £100,000 has been jailed for five years.
Jonathon Mills, 46, of Newton Abbot, overcharged Rosemary Stansbury, 78, including £3,500 for a small shed.
A judge at Exeter Crown Court called him a "confidence trickster, compulsive liar" who lived in a "fantasy world financed by victims".
Mills, jailed for three years in 2001 for similar offences, admitted unfair trading and fraud.
The court heard that Mills had befriended Mrs Stansbury in 2009, seven months after her husband died.
He claimed he owned mansions, yachts, drove Aston Martins and Ferraris and flew a helicopter.
But the court heard he was actually a bankrupt who had been jailed for three years in 2001 for defrauding a couple in Paignton, Devon, out of £190,000.
Home 'partially uninhabitable'
For two years he issued Mrs Stansbury, of Ashburton, Devon, with 40 invoices totalling £119,722.
A surveyor said the work on her small house was only worth about £24,000.
Mrs Stansbury's two sons alerted Devon and Somerset Trading Standards after Mills repaired a conservatory roof with plastic sheets which later collapsed.
Mills also installed a gas boiler which did not work and replaced it with another, charging her for both.
Sean Brunton, prosecuting, said as a result of the cons Mrs Stansbury had lost most of her life savings and her home "remains partially uninhabitable".
He said Mills was a "confidence trickster who tricked Mrs Stansbury hook, line and sinker".
Steve Gardiner, of Devon and Somerset Trading Standards said: "I hope the sentence highlights how we strive to protect the people of Devon, but more importantly will encourage those who suspect they have been conned to come forward."