Plymouth police to ban glass in problem pubs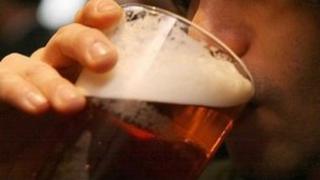 Police in Plymouth want to ban glass in pubs where it has been used as a weapon to injure people.
The force has started legal proceedings against one city venue to get them to stop using bottles following concerns about violent incidents.
Ch Insp Ian Drummond-Smith said pubs would be asked to stop using glass and legal action under the Licensing Act could follow if they refused.
Police will be warning any bars with more than once incident a year.
'Permanent scarring'
Mr Drummond-Smith said that the policy started in Newquay in Cornwall last year had led to an 80% drop in serious violence.
He said that there had been 29 glassing attacks Plymouth in the last year.
"Some victims have permanent scarring and serious injuries," he said.
"I am determined that where we have premises that are troublesome and glassing is occurring that we work with those premises to try and reduce the amount of glass they are using."
He added: "There are plenty of alternatives available, including safety glass, plastic or aluminium."