Police investigate Chittlehampton buzzard poisonings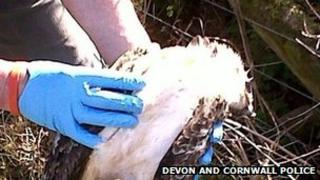 The deaths of two buzzards are being investigated by police after they were confirmed as poisonings.
The birds were found in the Chittlehampton area of Devon in April, but subsequent forensic testing on the birds of prey revealed the cause of death, Devon and Cornwall Police said.
Officers said the poisonings were "indiscriminate with potential lethal consequences for companion animals".
Buzzards are described by the RSPB as the UK's most widespread bird of prey.