Firms fined for 'unacceptable' Brayford Quarry blasting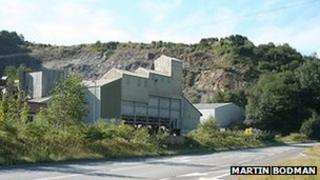 A workman narrowly escaped injury when a quarry explosion sent rocks flying through the air and on to a road where he was controlling traffic.
Barnstaple Magistrates' Court was told debris from the 2011 blast at Brayford Quarry in Devon damaged waiting cars.
WCD Sleeman and Sons and Hanson Quarry Products were each fined £20,000.
Sleeman admitted breaching the Health and Safety at Work Act, while Hanson pleaded guilty to a breach of the Quarries Regulations.
The prosecution followed an investigation by the Health and Safety Executive (HSE) which identified "serious control failings."
'Entirely preventable'
The court heard that two cars waiting in the queue on public road near the quarry, were hit by flying rock which dented the bonnet of one and a smashed the windscreen of the other.
HSE inspectors discovered a piece of rock weighing 19lb (8.5kg) on the other side of the road. Six other smaller pieces of rock were also recovered from the road.
When the workman, who was acting as a sentry on the road to manage traffic during the blasting, heard the rocks coming through the trees, he used the stop-go board to cover his head and took cover next to a large van.
WCD Sleeman and Sons Limited, of Valley View, Vallis Park, Frome, Somerset, was fined £20,000 and ordered to pay £17,000 in costs.
Quarry operator Hanson Quarry Products Europe Limited of Castle Hill, Maidenhead, Berkshire, was also fined £20,000 with £14,000 costs.
Speaking after the hearing, HSE inspector of quarries, Mike Tetley, said the "entirely preventable" incident could easily have led to death or serious injury.
"Blasting operations at quarries are inherently high risk, and these risks must be rigorously controlled by good explosives engineering practice and in accordance with legal requirements," he said.
"It is totally unacceptable for both members of the public and employees to be put at serious risk of being hit by rocks, as happened here in an entirely preventable incident."
The HSE said with 3,250 injuries, including 27 fatalities, since 2000, quarrying remained one of the most dangerous industries to work in.