Kelley College could get Olympic 2012 pool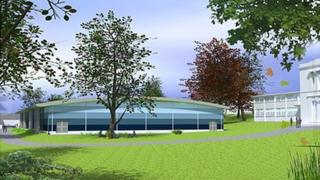 One of the Olympic swimming pools used for London 2012 could be rebuilt at a Devon school.
Sport England is supporting plans to relocate a 50m former Olympic training pool to the independent school Kelly College, near Tavistock.
The school is predicting that top swimmers will train at the pool which will also be open to the public.
The school has raised £1m towards the £3.4m project to bring the already dismantled pool from London.
'True Olympic legacy'
During the last 30 years Kelly College has produced 16 Olympic and five Paralympic swimmers using a four-lane 25m pool.
Most recently Kelly pupil Hannah Russell won a silver and two bronze medals in London 2012.
Robin Brew, the college's director of swimming, said: "Young swimmers need the experience of a 50m pool and we are dreadfully lacking in this country.
"This project really reflects a true Olympic legacy.
"It will be tangible evidence that we have done something to make a difference."