Boringdon stream pollution from Plymouth school toilets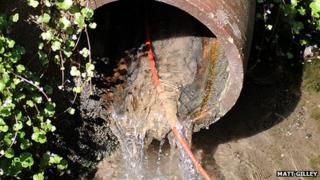 A family plagued for years by pollution in the stream next to their Devon home has been told the sewage is coming from the toilets of a nearby school.
The Gilley's, from Colebrook, near Plymouth, first contacted the Environment Agency four years ago.
Agency engineers have found a pipe which they think was "misconnected" when toilets were built at Boringdon Primary School eight years ago.
No-one was available from the school, which is closed for the summer.
"Obviously we're pleased they've finally found out what's causing the problem, but we want the issue resolved as soon as possible," Matthew Gilley said.
'Indescribable' smell
He added: "During the holidays there won't be kids at the school, but there might still be janitors or caretakers using the toilet facilities which will mean more pollution."
The family contacted the Environment Agency again two weeks ago when the dry, hot weather resulted in an "indescribable" smell from the stream.
"The dry weather's meant the water in the stream is lower and the stench is enough to put you off your lunch and your dinner - it's truly indescribable," Mr Gilley said.
Plymouth City Council, which is the local education authority, said it had been made aware of the problem and was working with the Environment Agency.
"Boringdon Primary have alerted us that the Environment Agency have identified a potential problem with the plumbing from some of the toilets at the school," a statement said.
"We are in discussions with the Environment Agency and will work with the school to identify the source of the problem and take relevant steps to rectify it."