Aviva offers health insurance policy to dead woman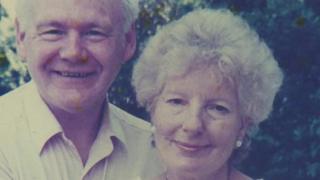 An insurance company has apologised to a widower for sending two letters to his late wife offering a health policy, even though it knew she was dead.
The letters from Aviva were both addressed to June Davies "deseased" (sic) in Torquay, Devon.
Her husband John complained about the first letter, but a few months later Aviva sent a second.
Aviva said it had apologised to Mr Davies and had taken steps to prevent such an error happening again.
'Traumatic'
Music teacher Mrs Davies died of cancer 10 years ago.
Mr Davies said: "I got the letters advertising health insurance. They had even spelled deceased wrong. I was apoplectic.
"I thought 'What's going on here?' It was traumatic."
Aviva said in a statement: "We are very sorry for the distress caused to Mr Davies by our error.
"We have completed an immediate review into why this occurred and have put in place new measures within our marketing department to prevent this type of error happening again.
"Mr Davies has accepted our apology and the outcome of our investigation into his complaint."