Plymouth and Exeter to get car charging points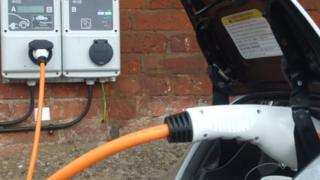 Charge points for electric cars will start appearing in Exeter and Plymouth after successful bids for government funding.
The two city councils have been awarded nearly £200,000 between them to install the charging points.
Plymouth will get 16 charging points including city centre car parks, park and ride sites, Derriford Hospital, Plymouth Life Centre and City College.
Drivers will be able to charge cars in two to three hours at the sites.
Drivers 'need confidence'
Mark Coker, councillor for transport, said: "We are committed to reducing carbon emissions and increasing the number of electric cars on our roads.
"To do that, we obviously need charging points so it's feasible for people to use their electric cars to get around the city and travel further afield."
Exeter City Councillor Rachel Sutton said: "People aren't going to buy electric vehicles unless they have the confidence that they are going to be able to recharge the batteries to get home again."
The city council is still working out how much charging will cost.
Mrs Sutton said: "I think in the car parks you will be paying for car parking, but not the electric.
"I hope they will be available in the next six months."