Toilet closures leave Torbay fair-goers caught short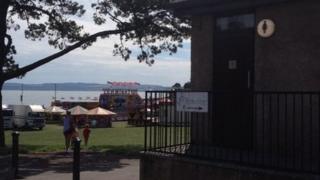 Funfair-goers are being caught short by the early closure of public toilets in a Devon resort.
The Torbay toilets, which were open until 23:00 BST last summer, have been shutting from 19:00 BST since 1 April to help save the council £500,000.
Some people attending the annual seafront funfair are using hedges as an alternative to the toilets, one councillor said.
Torbay Council said the early closures were due to cuts for the year 2013-14.
The toilet time changes, across all toilets apart from Torre Abbey, were introduced as part of £10m cuts by the Conservative-controlled council this year.
'Absolutely scandalous'
But the fair arrived in town on Monday and will be there until the end of August, and it does not shut until 23:00 BST.
Labour councillor Darren Cowell said: "People have been left with no option but to urinate in hedgerows, which is absolutely scandalous.
"The bottom line is that public toilets should be open and accessible."
He said the changes were a "badly thought out" decision.
"There was no consultation with the public," he said.
One funfair goer called the early closure "disgraceful".
He said: "Everyone needs to go the toilet at some time, especially if they have had a few drinks."
Janet Henry, who runs a cafe near the seafront, said: "We're a tourist town.
"Seven o'clock is about the time people come out for a walkabout and people will be walking past until at least 11 o'clock."
A Torbay Council spokesman said: "As a result of the budget saving process for 13/14, a saving of £500,000 was approved for a reduction in funding to contractors.
"As part of these savings changes to the service provided by our contractors was reduced in the area of public toilets and street cleansing and other areas."