Torbay Council defends 'zero-hours' contracts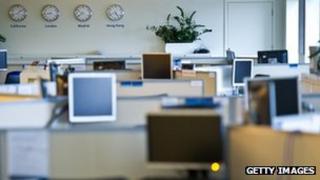 A Devon council has defended itself against union claims it employs too many people on casual contracts.
The GMB union claims nearly a fifth of Torbay Council staff are on so-called zero-hours contracts.
The union said it meant they did not get sickness benefits or holiday pay.
The council, which employs 1,213 core staff of which some 214 are on zero hours, said it complied fully with employment laws, and it treated casual workers equally with other staff.
But Paul Raybould, from the GMB, said: "I think they're just covering the holes with sticking plaster.
"They're still spending millions on agency costs. If they were employing people instead they wouldn't be paying out £1.85m in just over two years, just to pay an agency to send them a member of staff.
"I'd rather see permanent staff than casual labour. Their employment rights are pretty slim."
'Review of contracts'
Zero-hours contracts, or casual contracts, allow employers to hire staff with no guarantee of work.
They mean employees only work as and when they are needed by employers, often at short notice, and are only paid for the hours they work.
Figures released from the Office for National Statistics at the end of July suggested 250,000 workers were on zero-hours contracts.
In a statement, the council said: "People employed on casual contracts are an important part of our workforce providing cover for seasonal work, holiday cover or peaks in work.
"We comply fully with employment legislation and we refute any suggestion that these contracts are there to be used and abused.
"We treat casual workers on an equal basis with all other staff, for example, paying the appropriate payscale for the job, and paying holiday and sick pay."
The council went on to say it was "currently carrying out a review of all our casual contracts to ensure that those people who are employed on these types of contracts are employed appropriately considering their working patterns".