Menchine Farm chicken manure biogas plant approved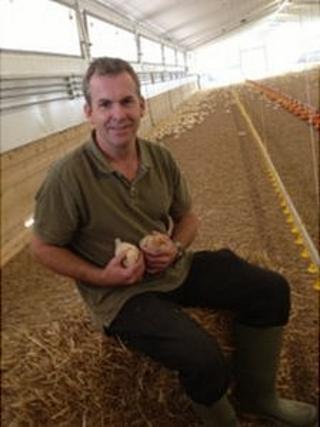 A Devon farmer has been given the go-ahead to build a plant producing energy from chicken manure.
The complex uses anaerobic digestion to produce methane gas and heat.
The approval comes after a four-year fight by Stuart Cole who farms at Nomansland, to overcome objections from some residents.
Using the chicken litter and some crops, the plant will also produce rich fertiliser. Any surplus energy will be fed into the National Grid.
Mr Cole said he and his family were relieved to finally get planning permission after a ruling by a planning inspector.
"It's very encouraging, but the disappointment is that it's taken this long and it was difficult to persuade locals planners of the benefits," he told BBC News.
Concerns raised included the size of the plant, its visual impact and the potential for an increase in traffic.
One of the opponents, Philip Bratby, who lives nearby, said it would be "a power station in the middle of the countryside".
But Mr Cole described the anaerobic digester as an "agricultural slurry store with a lid on it" and that local people should not be worried.
The buildings were "agricultural in their design", he said, adding: "What people need to get their heads around is that an AD plant produces renewable energy and also produces renewable fertiliser.
"That means our food production can become more sustainable."