Angela Vane detained in psychiatric unit for killing son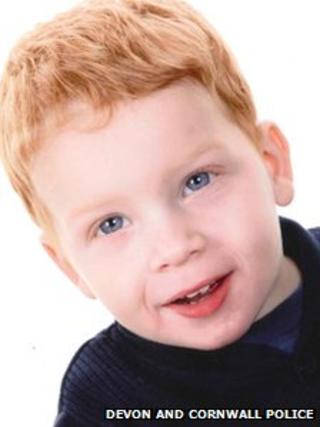 A mother with paranoid schizophrenia who killed her two-year-old son has been detained indefinitely in a psychiatric unit.
Shaun Ryleigh O'Neill's body was found at the family home in Champernowne in Modbury, Devon, on 19 January.
Angela Vane, 40, denied murder but pleaded guilty to manslaughter on the grounds of diminished responsibility at Plymouth Crown Court.
Judge Graham Cottle described the case as "unimaginably tragic".
The court was told Vane, who has two other children in their 20s, tried to strangle her son and then stabbed him in the abdomen.
Prosecutor Martin Meeke QC said Vane had split from Shaun's father six months earlier and it was after this that she started having "psychiatric difficulties".
She thought Mr O'Neill was spying on her and shining laser beams on to her home.
'Killed my baby'
Then, early on the morning of 19 January she was spotted on the wrong side of a bridge safety barrier and told a passer-by she was going to jump.
The man persuaded her not to and she asked him to take her to a police station.
Before going inside she told him: "I'm in trouble. I've just killed my baby."
Devon and Cornwall Police went to the house in Modbury where Shaun was found on a bed with a neck tie around his neck and a stab wound to his abdomen.
'Very unwell'
Vane was examined by three different doctors who found she was suffering from paranoid schizophrenia with depressive symptoms, which the judge said "profoundly affected" her ability to exercise self-control.
Defending Vane, Fiona Elder, said there had been no criticism of the mother prior to the killing and that Shaun had been a "well-cared for child".
Judge Cottle told Vane it was his responsibility to detain her under the Mental Health Act, due to the risk she posed to herself and the public.
"It is clear you were very unwell when you took your child's life," he said.
"Nobody has any criticism of you as a mother, in fact the contrary is true. You have two older children whose response has been compassionate and understanding."
Speaking after the hearing Det Insp John Ardron, of Devon and Cornwall Police, paid credit to the Vane's family and the officers who first attended the house.
"This is a case where there are no winners. It is one of the saddest and most tragic cases I've dealt with in 24 years," he said.