Heating oil from hospital leaked into stream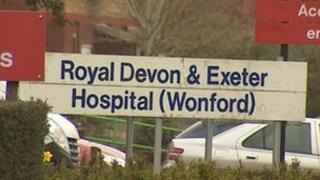 The Environment Agency has issued a formal warning to a Devon hospital after thousands of litres of heating oil leaked into a local stream.
The Royal Devon and Exeter Hospital said the fuel line at its Wonford site had been broken for some time.
It had been discharging into a waterway flowing through Ludwell Valley Park.
The hospital said the spill was "significant" and it worked with the Environment Agency and specialist contractors to minimise the damage.
The Environment Agency said it had received numerous reports from concerned members of the public after they noticed a "strong odour" and "oily sheen" in a stream flowing through Ludwell Valley Park in Exeter.
The Royal Devon and Exeter NHS Foundation Trust said it had appointed firms of specialist consultants and contractors to stop any further leaks and to install a temporary fuel storage system while a full investigation was carried out.
The hospital said the leak was discovered on 24 May and the spill was contained within a 24-48 hour period.
It said funding had been made available to replace the oil-fired boilers with gas to prevent any further incidents of this kind.
Cliff Barnes, Deputy Director of Strategic Capital Planning at the hospital, said: "We are grateful to the Environment Agency for bringing this matter to our attention. As soon as we were alerted to this leak, we took prompt action and within 24 hours we had mitigated the risk to the stream and park users.
"We have now decided to replace all oil-fired boilers to the residence blocks with gas so that this type of accidental leak can never happen again. This work is due to start in October this year."
The Environment Agency said it would seek to recover the cost of the spill and work with the hospital to improve practices and reduce the risk of it happening again.