Dartmoor rescuers see rise in dementia searches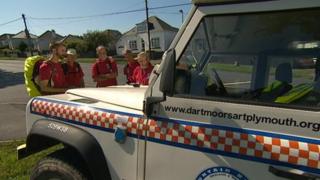 A charity branch set up to find missing hikers on Dartmoor is now spending most of its time in urban areas searching for people with dementia.
Dartmoor Rescue Group was set up in 1968 by local walkers to help locate people missing on the open moor.
However, Plymouth members said more than half their call-outs now involved vulnerable people with dementia or mental health issues.
Devon and Cornwall Police said there were 600 such searches in three years.
Because of the significant increase in the type of searches, Dartmoor volunteers are now given specific training on how best to deal with such incidents.
'Prioritise efforts'
Colin Sturmer, chairman of Plymouth Dartmoor Search and Rescue Team, said: "We have 36 qualified team members and our weekly training sessions includes how best to approach someone with dementia who may be disorientated, confused and frightened.
"The police ask for our assistance when someone is reported missing from a private family home or residential nursing home who could be vulnerable because of their mental health.
"The majority of our work is now within urban and lowland areas and we have a special computer programme which suggests potential areas to search where the person has been reported missing to help us prioritise the team efforts."
Figures from Devon and Cornwall Police for the three years to 31 July 2013, showed 616 reported incidents of missing people with a dementia condition - 68 in Plymouth, 354 across the rest of Devon and 194 in Cornwall and the Isles of Scilly.
A police spokesman said the group's expertise was invaluable.
"We'd really struggle without their assistance," he added.