Driver Michael Tatem admits 'Mexican friend' perjury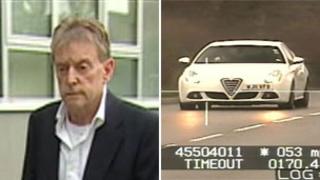 A man who claimed his car was being driven by a Mexican friend when it was caught speeding has admitted lying to get out of a traffic conviction.
Michael Tatem, 64, from Tavistock, Devon, was clocked by a mobile speed unit doing 53mph (85km/h) in a 40mph (65km/h) zone on Tavistock Road in Plymouth in January 2012.
Police began an investigation after deciding his story was "incredible".
At Plymouth Crown Court, Tatem admitted committing perjury not under oath.
The driver told police he was in London when he allowed a friend to go to his home and use his white Alfa Romeo Giulietta.
Police said they then carried out a "subsequent lengthy investigation".
David Gittins, of the Crown Prosecution Service, said: "Despite all attempts by police to establish if this man existed, Mr Tatem never provided any details to show the existence of this man."
Tatem only admitted he was the driver after he was summonsed to court after failing to produce evidence of insurance cover for his Mexican friend.
After the conviction, Insp Richard Pryce of Devon and Cornwall Police, said: "We treat these offences very seriously indeed."
Tatem is due to be sentenced next month.