Cougar 13 Royal Marines commando training in Albania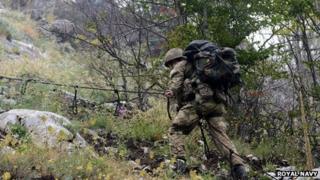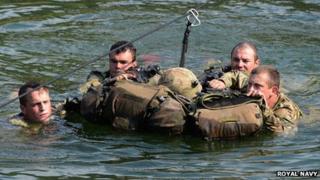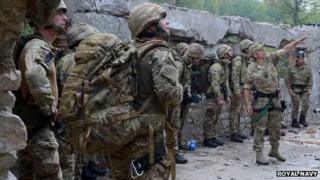 Hundreds of Plymouth-based Royal Marines have landed in Albania for a series of major exercises.
The commandos are part of the Royal Navy's Response Force Task Group operation, Cougar 13.
The marines have carried out river crossings, abseils and mock assaults while they wait for the task force to arrive in the Adriatic.
HMS Bulwark, HMS Illustrious and RFAs Mounts Bay and Lyme Bay will take part in the first exercise, Albanian Lion.
The marines will work with Albania's armed forces to put a group of commandos ashore in what the Royal Navy described as a "high-tempo scenario".
Sgt Chris Davies, 30, from 30 Commando Royal Marines, Plymouth, said: "This is the second time I have trained in Albania and the mixture of heat, altitude and mountainous terrain make it the ideal training environment for the Royal Marines.
"We are all raring to go."