North Devon blood donor session locations halved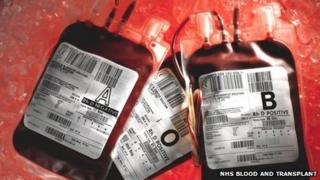 Some people in parts of north Devon will have to travel up to 12 miles to donate blood, after a decision to halve the number of collection locations.
The number of places people can give blood is being reduced from 13 to six by the NHS Blood and Transplant.
The blood service said it was a difficult but necessary decision in order to save money and put it back into front line patient care.
Unison condemned the move as "ridiculous".
It has not been confirmed if any staff will lose their jobs, but the service said it was currently undergoing an individual consultation process with staff.
"Our immediate priority is working with our blood collection team to do everything we can to support our employees through any changes," a statement said.
'Another attack'
From the autumn, regular donation sessions will be held in Bude, Barnstaple, Bideford, Holsworthy, South Molton and Chulmleigh.
"Every donor who wants to give blood will still be able to do so, but unfortunately some may face a longer journey to donate," NHS Blood and Transplant said.
Peter Taylor, its regional operations manager, said individual letters explaining the changes would be sent to affected donors and they would be invited to alternative sessions following the changes in October.
"We do have really loyal donors in the area and we're hopeful that because we're still running so many sessions donors will be prepared to stick with us," he said.
The Unison union said it very much regretted the withdrawal of services in north Devon.
"These areas have some of the most loyal donors and when they're short of donors nationally, we see this as a ridiculous move," union spokesman Stuart Roden said.
"People who rely on public transport in these rural area are not going to be able to jump on a bus to go 20 or so miles to give blood... so I see this as another attack on rural communities."
Mr Roden added Unison would oppose any compulsory redundancies.