Plymouth ecstasy conspiracy gang members jailed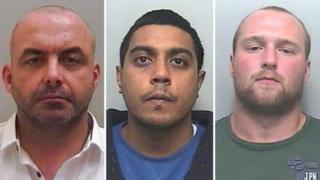 Three men who plotted to make ecstasy from a laboratory in Plymouth have been jailed.
Jon Curtis, 41, Mohammed Habib, 30, and Samson MacNab, 22, all from the city, were found guilty of conspiracy last week after a seven-week trial.
The men, who joined forces in 2011, planned to sell thousands of pills of the class A drug but were caught before any were produced, Plymouth Crown Court was told.
They were jailed for 10 years each.
'Mr T'
Devon and Cornwall Police said they believed the gang aimed to make between 3kg and 5kg of MDMA in a Plymouth flat - enough for more than 30,000 tablets - with an estimated street value of more than £300,000.
Habib and a fourth man, known as Mr T for legal reasons, came up with the idea of manufacturing the drug before contacting what became other members of the gang.
MacNab was the source of chemicals, which he bought over the internet; and Curtis provided a flat, in St Barnabas Terrace, Stoke, for the laboratory, the court was told.
But the plot unravelled when gang members fell out with one another, the jury heard.
Police said Mr T approached them following death threats.
Officers then seized a number of drug-making items from Mr T's flat, but when they raided St Barnabas Terrace, they found the laboratory had been dismantled.
However, Curtis, of Friars Lane, the Barbican, Habib, of Quarry Park Road, Peverell, and MacNab, of Edith Avenue, Lipson, were arrested as the result of an 18-month police investigation.
Police said the conspirators were attempting to make "a massive amount of profit" by manufacturing "substantial kilos of class A drugs".
After the sentencing, officers said they were "satisfied" with the outcome as the investigation had prevented "potentially lethal untested drugs" from flooding the streets of Plymouth.
Mr T, who was also found guilty of being involved in the conspiracy, is due to be sentenced in September.
Two other men charged with a conspiracy offence were found not guilty.