Operator sought for £170k Ilfracombe land train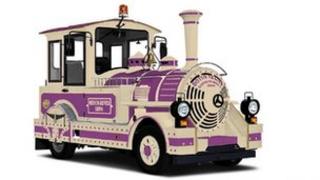 An operator is being sought to run a new land train in a north Devon town in a bid to "improve the flow of visitors", a council said.
The Dotto land train, which will cost more than £170,000, is expected to be launched in Ilfracombe in November.
North Devon Council has paid £9,000 and the authority has successfully bid for £163,000 from a European fund.
The train is part of plans to build on the interest created by Damien Hirst's statue Verity.
The giant bronze statue of a pregnant woman split opinions in the town, but councillors said it had had a "tremendous effect" with visitor numbers shooting up since it was installed last October.
The council said the train, which would probably pass the swimming pool, harbour, seafront and High Street, would also make the town's attractions more accessible.
The majority of the funding is coming from the EU Leader 4 Programme, which is used for regeneration projects.