Ilfracombe Regency Care Home rapped over missed medicine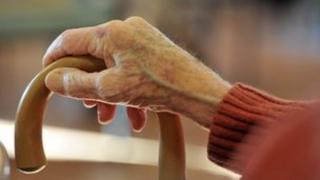 A Devon care home has been issued with an enforcement warning after independent inspectors found it was not managing residents medication properly.
One person had gone for eight days without prescribed treatment, including heart medication and pain relief.
The unannounced visit at the Regency Residential Care Home in Ilfracombe was carried out by the Care Quality Commission (CQC), at the end of July
Norma Martin, home manager, said she was working with the CQC.
"The CQC asked me to provide them with an action plan by the 4 September which I completed and sent to them on the first," she told BBC News.
"I am working with them to address the matters."
The CQC report also said improvements were needed in other areas, including staffing levels, safety and suitability of the premises, including inappropriate flooring, and the care and welfare of residents.
Stained and "odorous" bedding indicated linen was not being changed as frequently as it should be, inspectors said.
However, six of the 12 residents living in the home on the day of the inspection said they thought the care they received at the home was "good".
The CQC said following the inspection it had spoken with district nurses, a GP surgery with patients at the care home and had also been in contact with the local safeguarding team and Devon County Council about the outcome.