Water leaks affect Dartington 'eco-school'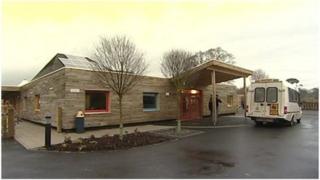 An "eco-school" that opened in 2010 has such bad leaks its pupils will have to go into temporary accommodation while repairs are carried out.
Devon County Council said it might sue the architects of the £7m Dartington Primary School near Totnes.
The school was one of the first "zero-carbon" primary schools in the country.
Architectural firm White Design said it was aware of the problem and was working with the council to establish the cause and resolve it.
A report commissioned by the council blames the design and highlights "complexities within the rainwater harvesting system".
'Significant' repairs
The report said: "Following the receipt of the technical specialists' report and after taking legal advice, Devon County Council has put the design practice and its insurers on notice of a potential claim."
The school has four separate clusters of buildings which are constructed from pre-fabricated sustainable timber panels.
They are insulated with natural wood fibre and clad in locally grown sweet chestnut. The under-floor heating is provided by air source heat pumps with ventilation via a heat recovery system.
The report says the building started letting in water shortly after it was finished, and that "significant" repairs are now needed.
Temporary buildings will be set up on the school's playing field, and the work could take up to two years.