Plymouth's Derriford Hospital improving after 'never' events, CQC says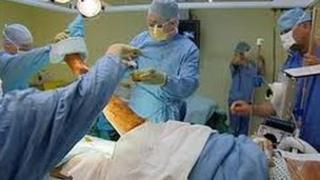 A hospital which was investigated after eight so-called "never" events has improved, the health watchdog says.
The Care Quality Commission (CQC) inspected Plymouth's Derriford Hospital after it suffered the eight preventable events within a year and issued a warning notice in July.
After a follow-up visit, it said it was satisfied new checking systems helped ensure safety during operations.
But it added that improvements in some areas were still needed.
'Very vigilant'
The unannounced inspection in April was brought forward because of the spate of "never events", defined by the Department of Health as serious, but largely preventable events that should never happen.
Five such incidents related to surgery or treatment to the wrong part of the body. They occurred between November and March.
While issuing the warning notice, the CQC said Derriford had to make urgent improvements to protect patients undergoing surgery.
Inspectors returned at the end of August.
Plymouth Hospitals Trust chief executive Ann James said there had been no never events so far in 2013.
She added that staff were still "confident that the areas still needing improvements were still being addressed".
She said: "Safety and quality of experience is at the heart of what we do every do.
"We're not out of the woods. It's a day-to-day thing and we're very vigilant over that."