Fifty people left sick after Devon wedding party buffet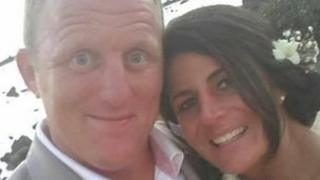 About 50 people fell violently sick after attending a newlywed couple's homecoming party.
Public health experts are investigating after complaints from guests at the buffet party at the Globe Inn, Frogmore, in south Devon.
Plymouth police officers Nick and Anna Burnett threw the party last Saturday for friends and family after getting married in Mauritius.
The pub said it could not comment until the investigation was complete.
Mr Burnett, 37, and Mrs Burnett, 34, had returned to England after a honeymoon in South Africa.
Days off sick
About 90 people attended the party, which Mr Burnett said had been a "fantastic evening" at a "great venue".
He added that the mixed buffet had been "excellent".
But he realised something was wrong on Monday morning when he and his wife, who is a vegetarian, became seriously ill with vomiting and diarrhoea.
The couple soon realised they were among about 50 guests suffering the same effects.
Mr Burnett, who was still feeling ill four days after the party, said some people had been forced to take days off work.
"The pub is devastated, for us and everyone else," he said. "But we must not jump to conclusions until we've got the results."
A spokeswoman from South Hams District Council said it had received reports from "a number of people" who became ill after the wedding party.
It is investigating the cases with the government health protection agency Public Health England.
She said: "We have sent out questionnaires to members of the party who we believe have been affected to assist our investigations.
"At this stage of the investigation it is too early comment on possible causes of the illness."
The Globe's landlord John Horsley confirmed that the pub had laid on the buffet, adding: "It is under investigation and until we know what the results are I cannot comment."