Devon hospitals miss cancer treatment targets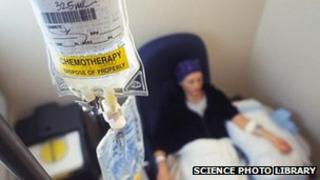 Two Devon hospitals are failing to meet government waiting time targets on the urgent referral of cancer patients.
The government target is for 85% of patients to be treated within 62 days of being referred by their GP.
But Derriford Hospital in Plymouth and the Royal Devon and Exeter Hospital have failed to achieve this over a number of months.
Both hospital stress they are close to meeting the target and say improvements are being made to tackle the problem.
The 62-day target measures the time taken from the GP referral for suspected cancer to the patient's first treatment and applies to all types of cancer.
'Very worrying'
Derriford Hospital, the specialist centre for Devon and Cornwall for patients with complex tumours, has failed to meet the target of 85% in five of the last six months.
It did meet the target in August with 85.4% of patients seen with 62 days, but is expected to narrowly miss the target when the figures become available for September.
Derriford Hospital said it treats more than 3,000 newly-diagnosed patients with cancer every year.
In August - the only month that Derriford hit the 85% target - 147 people were treated but there were 22 cases where treatment was delayed.
The Royal Devon and Exeter Hospital failed to reach the target in the three consecutive quarters up to June but says it is now meeting the target.
Sarah Osborne, from Cancer Research UK, said any delay "can be extremely distressing for patients and their families".
"It is a very distressing and worrying time, and the best thing that can happen for patients is to know that they are going to start the treatment that will, hopefully, ensure that the cancer doesn't spread or that their illness doesn't get worse.
'Extensive action'
The Plymouth Hospitals NHS Trust said action has been taken to reduce delays for cancer patients and added that they were meeting other cancer waiting time targets.
Sian Dennison, lead cancer nurse and manager for Plymouth Hospitals NHS Trust, said: "Delays may be due to medical reasons, tertiary referrals and Trust internal delays.
"Tertiary referrals for diagnostic and specialist surgical interventions are complex and therefore often are referred later in the 62-day pathway.
"When we identify an internal delay, we review and analyse the cause and discuss them with our clinicians and managers to identify the actions required."
The trust said these improvements had seen a reduction in the number of breaches and that they expect to reach the target for October.
The Royal Devon and Exeter Foundation Trust also said the 62-day referral target is now being met.
In a statement it said: "Extensive action has been taken across the trust and within each cancer speciality to reduce breaches over the past nine months."
It added that "no incidences have been found of patients being delayed to the detriment of their clinical outcome".