Broomhayes autistic school changes prompt jobs fear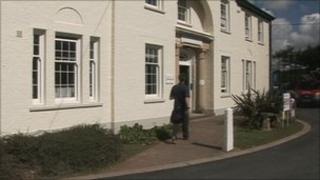 About 100 staff could lose their jobs at a specialist school in Devon for children and young people with autism.
The National Autistic Society, which runs Broomhayes, in Bideford, has said Orchard House, its residential and day school provision, will close early next year "at at date to be agreed".
It said the changes were part of a reorganisation that would focus on teaching young adults and not children.
The society said it would be working closely with staff to offer support.
Mark Lever, the chief executive, said it was necessary to change focus to young adults because local education authorities were referring fewer children to the specialist school.
The Care Quality Commission (CQC) also raised concerns about Orchard House earlier this year and the results of another inspection are due to be published next month.
In June the CQC said staff were not receiving the appropriate training and support they required to fulfil their roles and meet students' needs.
The society acknowledged "considerable improvements" were needed.
Mr Lever told BBC News the large decline in referrals coupled with "less than satisfactory" CQC and Ofsted reports, meant changes had to be made.
'Unsettling time'
"They've shone a spotlight on us and we've got to take action to address these concerns," he said.
Mr Lever said he recognised this was "an incredibly unsettling time" for the fully committed staff at Orchard house who were trying to provide the best possible care and support for students.
He added that by February the school would only have two students under the age of 18.
"With the aging profile, it's quite clear there isn't a future for the site as a school," he said.
One member of staff, who wanted to remain anonymous, said that cuts in staffing numbers could put the safety of students at risk.
"People are worried about safety because it's going to be reduced staff members working with young people who often exhibit severely challenging behaviour," she said.
It is thought staff will be able to reapply for about 60 jobs.