Colebrook flood defence scheme agreed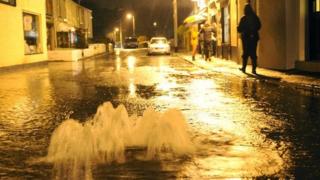 A major scheme to protect a Devon village which flooded six times last year has been agreed.
South West Water (SWW) will begin work later this month to prevent the drains in Colebrook from being overwhelmed.
Some village residents were forced from their homes for several months last December.
The main phase of the work will start in January. One flood victim, 61-year-old Janet Luke, said the announcement was both good news and a relief.
Her home was flooded in July, November and December, resulting in a £10,000 insurance excess,
Mrs Luke was initially refused flooding cover until local MP Gary Streeter intervened on her behalf.
Her insurer, Canopius, agreed to provide cover but added the £10,000 excess, which Mrs Luke described as a "nightmare".
"I don't think many people understand the constant worry and exhaustion," she told BBC News.
"When there's bad weather you just don't sleep and last week after the storm was forecast I went round putting everything up on crates.
"I'm so relieved something is finally being done - although there's a part of me that says I won't believe it until I see it with my own eyes."
The scheme will involve refurbishing some sewers and surface water drains and could include diverting surface run-off into the nearby Tory Brook.
Richard Gilpin, head of waste water at SWW, said that after the initial enabling work in November, work on the main phase would "start in earnest" in January.
The multi-agency scheme, which is expected to take about six months to complete, was agreed by SWW, the Environment Agency and Plymouth City Council.
Donna Finch, another flood victim who spent six months in temporary accommodation, said: "There has been lots of talking and planning, but my fear was nothing was actually happening.
"I'm happy they're finally doing something - although we still haven't been told exactly what they're doing."
South West Devon MP Gary Streeter, who helped angry residents organise a public meeting last year with the authorities, said: "This should bring hope and relief for the hard-pressed people in Colebrook."
Earlier this year, residents set up the Colebrook flood action group, which has been allocated more than £20,000 from the government's flood resilience community pathfinder scheme.
The money can be used for interim and personal flood defences, such as barriers, sand bags and rain gauges, which should help to protect the village until the SWW scheme has been completed in the summer.