Chivenor car compound fire 'destroys fleet'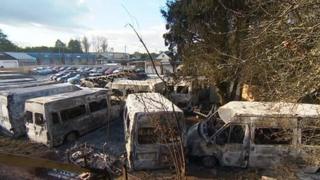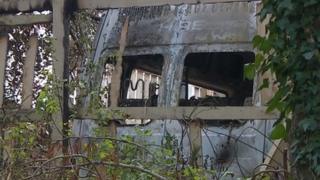 A large fire at a family-run business which specialises in commercial vehicles has destroyed 14 cars and 19 minibuses.
About 20 firefighters tackled the blaze on the Chivenor Business Park, near Barnstaple, north Devon at 04:00 GMT.
The "distraught" owner of Chivenor Trade Centre Hire Ltd has run the business for 30 years.
The cause of the fire, which also involved a gas main, is being investigated.
'Melted whole fleet'
An eyewitness, who did not want to be named, said the business owner was "distraught".
"All the hire vehicles have melted, the whole fleet, I've never seen anything like it," she said.
"I was woken up by the bangs, I thought there must have been a firework party or something going on."
A spokesman for the Devon and Somerset Fire and Rescue Service said it received several calls about the fire.
"This was a car compound containing 14 cars and 19 minibuses, all severely damaged by fire," he said.
"One gas main was compromised and involved in the fire. Fire crews requested the attendance of Wales and West Utilities to isolate a gas main at the site.
The spokesman said police had been "requested to attend" the incident.