Butts Ferry death: Exeter Council cleared of safety breach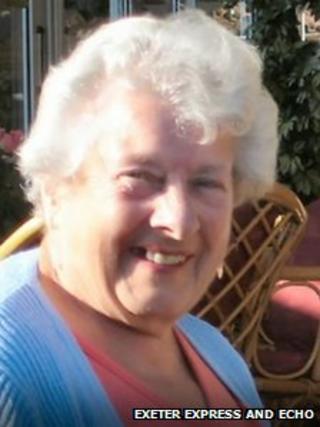 A local authority has been cleared of health and safety failings following the death of a pensioner who drowned while getting off a ferry.
Dorothy Stevens, 80, from Silverton, Devon, died in July 2010 after falling from waterside steps at Exeter's quay.
The Health and Safety Executive told Exeter Crown Court unsafe steps and handrails had caused her death.
Exeter City Council denied breaching safety laws, saying she fell because her walking stick broke.
'Lose balance'
The Butts Ferry, a floating platform which is manually pulled across the River Exe via a cable, carries up to 30,000 passengers each year.
It is operated by a contractor but owned by Exeter City Council, which is responsible for the landing stages on either side.
Mrs Stevens, who had arthritis in her hands, joints and right knee, had travelled into the city with her daughter and granddaughter in July.
The Women's Institute member, who could not swim, was trying to move from the platform to the first step when her collapsible stick broke and she lost her grip on the hand rail.
She fell and rolled into the water and drowned.
The prosecution was brought by the Health and Safety Executive, which alleged the council exposed the public to unnecessary risks.
Prosecutors said the height difference between the first step and the rest made them difficult to use.
The council had denied the charge, saying the accident could not have been foreseen.
It maintained her foldable stick breaking was the reason for her fall rather than the different heights of the steps and the handrail not extending to the water.
Lawyers for the council told the court that there had been no accidents or complaints for more than 40 years.
Flatter steps and additional handrails have since been put in place.