Bigbury's Royal Oak pub 'became too snobby for locals'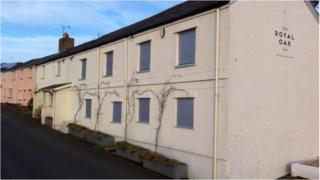 A 150-year-old local pub became "too snobby" for regulars when its owners took it upmarket before having to close down last November.
The Royal Oak in Bigbury shut 15 months after it was taken over by Hugh and Steve Ridgway, from the luxury St Moritz Hotel in Polzeath Cornwall.
Some people said what had been a locals pub had become a "chi-chi eatery".
Mr Ridgway rejected the claims, telling a public meeting the pub had already been revamped by the previous owner.
'Wasted massive opportunity'
Mr Ridgway told the meeting, attended by about 50 people, that he and his brother, a former chief executive of Virgin Atlantic, had consulted local people before taking it over.
He said "we tried our best", but the pub had to close after losing £200,000 over the 15 months.
"The key issue with the community here is that it is very sparsely populated and there are five pubs within 10 minutes of each other serving that very sparse population," he said.
"Sadly, while there is lots of emotion around it, the local community simply can't spend enough money to keep all these places open."
However, villager Karen Lawrence said: "They were too snobby and they have wasted a massive opportunity.
"The food was over-priced, they de-sensitised the pub and it lost its character."
An attempt to have the pub listed as a community asset - delaying any move to develop the site - has been rejected by South Hams District Council.
Mr Ridgway said he would now meet planners to see what could be done with the site unless local people could come up with a better proposal.