Tavistock supermarket approval ends six year planning saga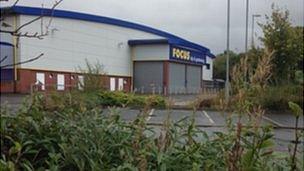 A planning saga which has cost a council £50,000 after a failed court action could be over after permission was given for a new supermarket.
West Devon Council launched a judicial review after Tesco said they wanted to open on the site in Tavistock.
The authority had approved minor changes to the Focus DIY site but failed to retain a restriction meaning it could not be used as a food store.
Tesco gained unanimous consent against the advice of officers.
The local chamber of commerce is opposed to the plan, but the town council said it was in favour.
A West Devon Council spokesperson said the approval was subject to several conditions which included no sale of white goods from the store.
The council received 306 letters of support, 121 letters against, and a further 191 signature petition for the application.
The battle to open the store has been ongoing for more than six years.
In 2007, West Devon Council approved a Focus DIY store in Tavistock but in 2011, when allowing minor changes at the site, the council failed to retain a restriction as a non-food outlet.
After Tesco declared an interest in the site, the council decided in May last year to launch a judicial review of the case.
But an internal report revealed the authority was beyond the three-month time period in which a legal challenge could be made.
The court appearance was unsuccessful and resulted in costs of about £50,000.
Tesco will now take over the former Focus DIY store building, a location which is close to the existing Morrisons and Lidl stores.
Officers argued it would have a significant adverse impact on the viability of Tavistock's town centre.
They also said the proposal threatened to consolidate Plymouth Road as an alternative shopping destination, undermining the centre of town.
Tesco said it intended to refurbish the building, providing 122 car parking spaces and creating 105 new jobs.
Related Internet Links
The BBC is not responsible for the content of external sites.