Second baby orangutan born at Paignton Zoo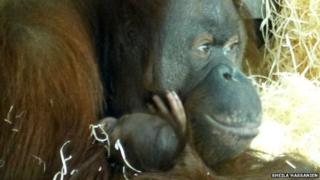 Staff at Paignton Zoo in Devon are celebrating the birth of a second baby orangutan in the space of nine months.
Chinta, a Bornean orangutan, gave birth three days before Christmas, staff at the attraction announced.
Keepers believe the youngster is another female, although no veterinary checks have been carried out as yet.
The zoo endured 16 years without any orangutan births before 18-year-old Mali conceived a female baby named Tatau last April.
'Phantom' pregnancies
"You wait 16 years and then two babies come along in nine months," Neil Bemment, the zoo's director of operations and curator of mammals, said.
Chinta and her baby should be on public view from 11 January.
In 2008, the zoo announced its male orangutan Demo had impregnated all three of its females, but each turned out to be a false or "phantom' pregnancy.
Bornean orangutans are listed as an endangered species and have an estimated worldwide population of just 50,000.